Billion Dollar Buyer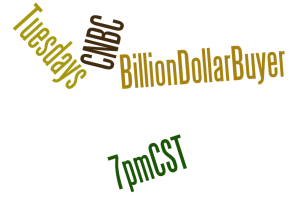 When I took the call as a veteran union makeup artist for this show, I wasn't aware that it would be a new network show that could potentially help people take their businesses further, by allowing them to present their wares to a major player in U.S. business. Airing on CNBC, Billion Dollar Buyer seems to be a cross between Shark Tank and West Texas Investors Club, but with a unique twist! The billionaire, Tillman Fertitta, owner of Landry's, The Golden Nugget, The Aquarium, Rainforest Cafe, Bubba Gump and other restaurants and businesses, made decisions on which products he would order to fill the needs of his establishments.  It was eye-opening for me to see how he utilized the insights of his managers and employees.
The production team and crew were great to work with.  The show, which shot eleven episodes, aired on CNBC.
Shortlink: