Abiiba Howell Bio
AN INDUSTRY HYPHENATE
A Chicago newspaper reporter (Observer) once wrote that if you place Abiiba Howell in a bag, shake it up and turn it upside down, she would still come out standing on both feet. From a path that includes marathon running, modeling, motherhood, stock car racing and martial arts to makeup artist and motion picture industry veteran, Abiiba has always charted her own course.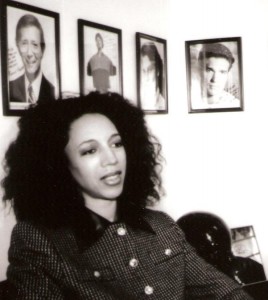 The native Chicago filmmaker was the publicist for Mr. T until he was discovered for ROCKY III. At the time, she owned and ran a limousine service and child care service from home, while a full time night student at Northwestern University. Her first limo booking was the Rolling Stones and O'Jay's Chicago tour stop. Abiiba's career was launched  years later as a film and television Makeup Artist before her rise to writer, producer and director, working on Chicago, Texas and Hollywood film and television projects.
Founding Dominion Films in 1997 as a means to develop and produce her own projects, she began making her mark right away.  The company began providing production services for record labels, among other clients, in the late 1990's. However,  the company after not receiving final payment from one record label in particular, a decision was made not to work on music videos again (with the exception of a 2007 small project), but to instead focus on niche area projects, movies, webisodes, documentaries and other TV programming, that formed the heart and soul of the company.
Abiiba's work as producer includes commercials, television talk shows, music projects, documentaries, independent movies and interactive multimedia content for the internet. As Senior Producer for Dominion Films, Abiiba wrote, produced and directed her own: Aging With Grace; Total Control (screened at the Museum of Fine Art, Houston); Fantasy in Pink (Finalist, Gulf Coast Film Festival) and The Accident (based on the James Garcia award-winning story of the same name). She has been the Production Supervisor for several projects, including: VISA: China to Houston with Yao Ming; Learning About for the Family Channel, George Foreman's Knockout Household Cleaning infomercials and numerous other projects.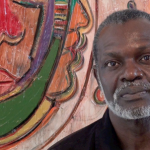 Her profile of the formerly homeless, now respected environmental artist, Charles Washington, has garnered awards and recognition, including at the Gulf Coast Film Festival in 2011.  Documentary projects include: The A.F. Project, Career School Nightmare, Don't Get Hurt in Texas, and more. She has written eleven screenplays and collaborated on one.
Abiiba was the Texas Assistant Production Coordinator for HBO and Billy Bob Thornton's film Don't Look Back; Production Coordinator for London Weekend Television's, The Jogger; and Production Coordinator for House on Todville Road (before moving over as Key Makeup/FX). She was the Production Manager for The Dark Dancer (Third Coast Entertainment/Showtime), Material Witness; Holyfield: Showdown at the Garden (Showtime Networks); Pirate Island of Jean Laffite (playing continuously in Galveston, TX since 1997); Prithvi (India) and for numerous other movies and projects.
Abiiba's *award-winning makeup work may be seen on numerous projects including: The Billion Dollar Buyer, Love Land, Return to Vengeance, Burned Soul, Somebody Up There Likes Me, *The Trap, *It's About Life on Earth (NASA), Space Troopers, Destitution, *The Big Picture Review With Fiskel and Hebert, The Man Who Came Back, (Carol Alt, Sean Young, George Kennedy and Jennifer O'Dell), MindSight, Suddenly Unexpected, Arlington Road, Hope, Children of the Corn: The Gathering (Karen Black, Naomi Watts, Samaria Graham), House on Todville Road, Rough Riders, Two for Texas, The Chase, *Hurricane in a Double-Wide, Space Marines, America's Dream, Hidden Obsession, The Independent Jury (trailer) and countless other features and short films, as well as numerous music videos and even more commercials. (See: IMDB listing). Abiiba has worked directly with talent including: Danny Glover, Meg Foster, Naomi Watts, Karen Black, Aerosmith, Public Enemy, George Kennedy, Montel Williams, Marilyn Manson, Evander Holyfield, Jerry Springer, Daniel Baldwin, Ice Cube, Carlos Ponce, Lorenzo Lamas, Terrence Howard, George Foreman, Lee Norris, Jerry Springer, Lorraine Toussaint, Lyle Lovett, Andy Dick, Wesley Snipes and a host of others.
Under her Casting Director hat, Abiiba: cast more than 450 people for TIN CUP; cast Houston's 2012 Olympic Bid commercial; was the Texas Casting Director for HBO's Breast Men; the Casting Director for William Katt's The Clean and Narrow; Casting Director (also Production Manager) for Pirate Island of Jean Laffite and many others.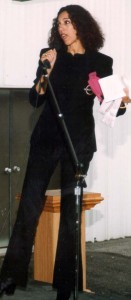 In 2002, Abiiba founded and was the director of  Film Expo Texas, an annual industry event, packed with workshops, exhibits, screenings and contests, designed to raise motion picture  standards and make the industry and its resources more accessible to all. She continues to help open doors for industry newcomers through her signature, Getting Into the Movies workshops, some of which she has led since 1991.
She has been an invited guest speaker at: University of Houston, Houston Independent School District, Hightower High School, Houston Community College Filmmakers Academy, Lee College, Aldine Independent School District, Scriptwriters/Houston, Texas Southern University and others. She has appeared as herself on Candid Camera and was featured on the Debra Duncan Show with Shelly Duvall and Loretta Devine, in addition to hosting episodes of  The Independent Movie Show.
A former voting member of the Independent Spirit Awards and a current Blue Ribbon Judge for the Emmy Awards since 2010, Abiiba has held longtime memberships in various industry organizations and associations while remaining active in two IATSE unions. She still takes time to volunteer with her favorite charities. In 2011, Abiiba took on the challenge of helping to bring attention to the plight of homeless people by writing and publishing an extensive research article on homelessness.
While Abiiba's specialty areas lie in the development, branding, production, distribution and promotion of entertainment properties (film, video, television, media and internet projects) utilizing new media platforms, she still continues to wear her Makeup Artist hat on productions.
Armed with a B.A. in Business (Entertainment, Finance, Marketing); a M.A. in New Media Journalism and an M.S. in Marketing, Abiiba is currently completing a doctorate in Business: Marketing. Other education includes: HR Management and Personnel Administration (Northwestern University); Communications and Labor Relations (Roosevelt University) and Business Planning (City Colleges of Chicago).
Current sights are set on branding motion picture projects, products and people using a blend of multimedia production processes and integrated, interactive, marketing methods. Abiiba professes to be an avid learner and niche finder who believes that knowledge should be shared. One thing for sure, whatever bag you place her in, Abiiba manages to stand tall while finding niche methods to help others.
In her spare time, Abiiba creates art from recycled materials, for her studio, Re-Think Art, when not spending time with family and friends.