Boo Boo Bandits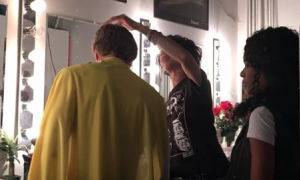 This little corporate episodic safety movie was shot with the producers calling it a corporate video, however, by the end of production, the enormity of footage and the movie storyline and depth of characters made it feature length, worthy of a Nickelodeon or Hallmark channel airing.
An amazing time was had by all who worked  on the The Boo Boo Bandits, that features youngsters,  teens and even a few scary teens and adults. Pitting the comic-book styled, fantasy  characters, the Boo Boo Bandits, against the protective do-gooder group, the Ouch Busters, the show touted the merits of being careful in everyday life, while looking out for unsafe experiences demonstrated by the adult group, The States.
The show, destined to be eye opening for businesses and educational institutions, the messaging is so clear that children's cable television and networks should seek it out for after school programming.
Shortlink: